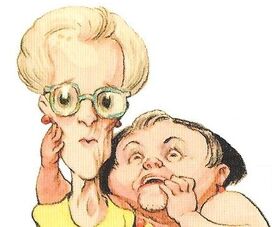 Vera Mazel and Josie Grey are professed "puzzle people" who live on the Fifth Floor of Ternky Towers.
Missing Item
Edit
Vera and Josie are missing their Victrola, which is on the Twelfth Floor.
Name Origin
Edit
Macy Gray or Mazel Gray.
Perhaps Vera Mazel refers to the singing coach Vera Mazel
Perhaps Josie Grey refers to Josephine Butler (née Grey), the British Feminist.
Perhaps Josie Grey refers to Josephine Gray the "Black Widow".
Ad blocker interference detected!
Wikia is a free-to-use site that makes money from advertising. We have a modified experience for viewers using ad blockers

Wikia is not accessible if you've made further modifications. Remove the custom ad blocker rule(s) and the page will load as expected.