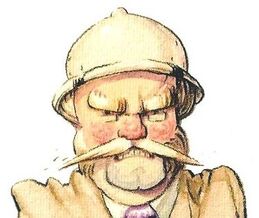 General Klobberduck lives on the Tenth Floor of Ternky Towers.
Missing Item
Edit
Klobberduck is missing a hunting rifle, which is on the Fourth Floor.
Origin of Name
Edit
A Klobberduck is a character from the N64 Donky Kong game series - Kremlin class enemy - an alligator in a barrel that sounds like Daffy Duck when it talks. [Posted by Freebornai on the Unfiction site April 28, 2010.]
Unknown, but this character looks similar and has a similar temperament to Colonel Mustard from the Clue board game.
Ad blocker interference detected!
Wikia is a free-to-use site that makes money from advertising. We have a modified experience for viewers using ad blockers

Wikia is not accessible if you've made further modifications. Remove the custom ad blocker rule(s) and the page will load as expected.