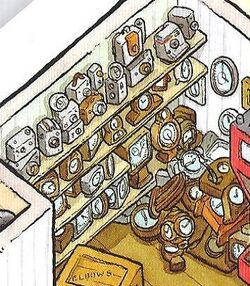 As per the title & plot of the novel, clocks appear on most floors in the book, and often at times inconsistent with the time frame of the story, possibly making them location clues.
The two large clocks: The left one is at around 4:55, the rightmost one is at about 9:40. The hands could also look like the numbers 1 and 7, or possible the letters I and upside-down L
13th Floor
Edit
2 clocks about Ternky's bed, both at around 2:23-ish
11th Floor
Edit
Pile of dozens of clocks in the corner. Impossible ? or pointless ? to discern times on them all?
10th Floor
Edit
Left corner: Clock at what appears to be 9:00 on the button, or very close (and 7 or so sec)
8th Floor
Edit
In the kitchen: approx. 1:00 (or is that approx. 12:05?)
Grandfather clock by door: approx. 1:00
4th Floor
Edit
Meter hooked to large hampster wheel: hand points to approx. 2 hr / 10 min mark
3rd Floor
Edit
In darkroom: approx. 6:00
1st Floor
Edit
Grandfather clock: approx. 7:10
Ad blocker interference detected!
Wikia is a free-to-use site that makes money from advertising. We have a modified experience for viewers using ad blockers

Wikia is not accessible if you've made further modifications. Remove the custom ad blocker rule(s) and the page will load as expected.