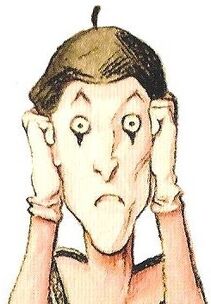 Bert D'Grnp lives on the
Sixth Floor
of Ternky Tower. He is a mime by profession and only speaks in the "talking room" of his apartment.
Missing Item
Edit
Bert is missing his antique Belgian unicycle, which is on the Seventh Floor.
Origin of Name
Edit
Could be part of a color motif: Add two "E"s and the resident would be Bert d'Greenp. This approach is suggested by the names Rosa, Amber and Grey among the residents of the building.
No clear association was apparent after googling Belgian surnames or place names, acronyms, or after exploring names of famous mimes.
Ad blocker interference detected!
Wikia is a free-to-use site that makes money from advertising. We have a modified experience for viewers using ad blockers

Wikia is not accessible if you've made further modifications. Remove the custom ad blocker rule(s) and the page will load as expected.